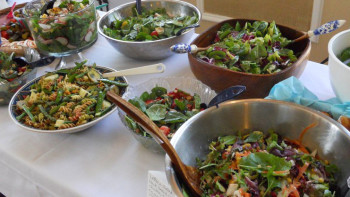 Copies of the member-written cookbook are available for purchase for only $20. Just send us an email at desfleursGC@gmail.com and we'll get a copy to you!
The cookbook contains 450 recipes that will please both the experienced and the inexperienced cook.  Many of the salads served at our Plant Sale and Auction have recipes included in this version of the cookbook and there's much more. From Party Starters, Bread and Breakfast, Soups, Salads and Seasonings, to The Main Event, On the Side, Sweets & Treats, and A Bit of This and That, there is something for everyone including gardening tips and treats for your pets.
Proceeds from the cookbook help to support our beautification projects that include Inloes Park, the landscaped beds at Oxford Community Arts Center, and annual contributions to the city's uptown hanging baskets.